30.01.2020 - 06.01.2021
View Coronavirus 2020 on baixing's travel map.
Jan 30, 2020
There was a poster in my hotel that said I could get a cheap train ticket . I asked the sleepy man how to do that. He couldn't tell me. So I went to the tourist info centre with a photo of the poster. The nice lady took me personally to a restaurant next door where they sold me a 1/2 price ticket. I asked her what to do until the onsen opened, she told me that I could go for a hike. I was still really sick so the hike was really slow. I climbed up a small hill and rang a bell.

I ate my lunch at the top of the hill then I went back down to the Kinugawa Park Hotel for another hour of onsen.
The next free onsen was Kinugawa Plaza Hotel, this is the one that didn't want to let me in.

I showed them the pamphlet and two of the front desk attendants didn't understand it, even though it was ½ in Japanese. They ran around for about 15 minutes trying to figure out if I was allowed in the hotel. I showed them my passport and then they let me in. Nobody was there, so I had the whole place to myself. This onsen had the best view out of all of them.
There were also mechanical massage chairs you could use.
I still had one more onsen to visit. Hotel Kinugawa Gyoen, this last one was the busiest. It seemed like a local gathering spot.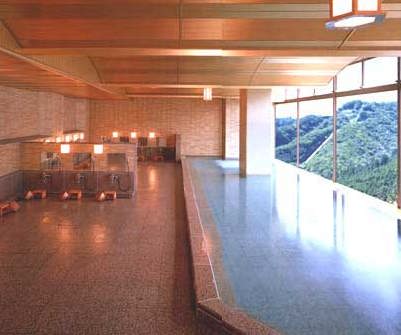 I still snuck into the VIP area anyway.

If you act like you belong, they don't question you. By then it was time to catch the train to Tokyo. I had an assignment on Feb. 1.
Jan. 31, 2020
I went back to the same hostel I had last time called Obi Hostel and I was sick in bed all day.
I only thing I went out for was soup and to mail my ferry ticket back to the company for my refund.

Feb. 1, 2020
I had dinner with Toshi at a fancy Chinese restaurant. The service was terrible for the amount of money they charged and one of the dishes was really strange so I politely told them. The manager apologized and gave us free wine and dessert and he didn't even charge us for the weird dish.


Feb. 2, 2020
I wrote the report from the restaurant yesterday all day.
I thought that I might stay longer in Tokyo so I changed to a cheaper hostel outside of the downtown area. On our way there, Toshi took me shopping and I bought a solar powered watch.
Now I never have to ask my dad for a battery again. You could see all of the maid cafes and various places to have drinks with the various domesticated animals like owls, cats, dogs, ferrets etc. Then we had an early dinner in the little village where I was staying.
I put my stuff down and I laid down on my bed, when I got back up again I found a bed bug full of blood on my sheet. That was the second time in Tokyo. I called booking.com again, tried to get a refund, tried to get them to find me another place to stay, but it was too late, there was nothing close by and I didn't feel like going across town. The owner gave me a different room with a top bunk. I left quickly in the morning. Later I eventually got a refund.
Feb. 3, 2020
My favourite jeans were ripped, so I went to a sewing workshop to turn them into a skirt. It was more expensive than I thought it was going to be.


Feb. 4, 2020
I had an interview in Myanmar at around lunch time. I didn't want to waste the whole day inside so I went to the Tokyo National Museum. I spent the morning there. They had really good wifi, so I had my interview in the basement.

Feb. 5, 2020
I looked at my hand and I had some weird bumps on my finger. I asked the people at the front desk what it might be, and they said they didn't know. They were a little itchy and kind of looked like little worms, so I immediately went to a clinic. The doctor at the clinic told me they were "caterpillars" and gave me some topical steroids. He said they would go away in a few weeks. Weird.
At sunset I went out again. I went to Sensoji Temple, which is famous for some reason.


I got a fortune that said I would get well. I was still sick at this point.


I walked back to my hostel along the canal and saw the famous Golden Turd Building, it's the headquarters of Asahi Beer.

Feb. 6, 2020
It was really cold and windy, but I wasn't far from the Sumida Hokusai Museum.


That's the guy who made "The Wave" woodcut. Although there is no "original" print because they made more than 5,000 from the first woodcut, you could see some pieces of the original wood which made the print. I think. It might also have been a replica and I'm totally wrong. You never know.
I also went to the Tokyo City Museum, where they give you a free guided tour. The woman giving me the tour was really interesting and we chatted a lot for many hours. I think I took up her whole shift!

I was getting really tired of Tokyo and my hostel was really cramped. I didn't feel like moving to another one at that point. There was nothing else I really wanted to do in the city, so I made my way to Kyoto on another Willer bus. This time it was overnight and I got a cheap ticket so there weren't any "egg" seats on that bus. It was definitely not worth it. They cram everybody into this tiny room to wait for their buses, it was so ridiculous. It was cold outside and some people were huddled outside also waiting for their buses. I thought the design of the Tokyo Station bus station was horrendous.